Blog
Editorial
Inspiration
Trending
Bravehearts of CRPF who martyred in Pulwama attack on February 14
In Pulwama, 40 CRPF soldiers sacrificed their lives while protecting the country. On Thursday, these jawans were killed in the terrorist attack of Jaish . Every CRPF or Army, every young man in the country takes the iron for us.
On February 14, in Pulwama province of Jammu & Kashmir state, a heinous and cowardly attack done on CRPF convoy in which 40 CRPF solders were sacrificed their lives and attained martyrdom. The incident was one of the biggest attacks in Jammu & Kashmir since 2004 which condemned by every individual citizen of India.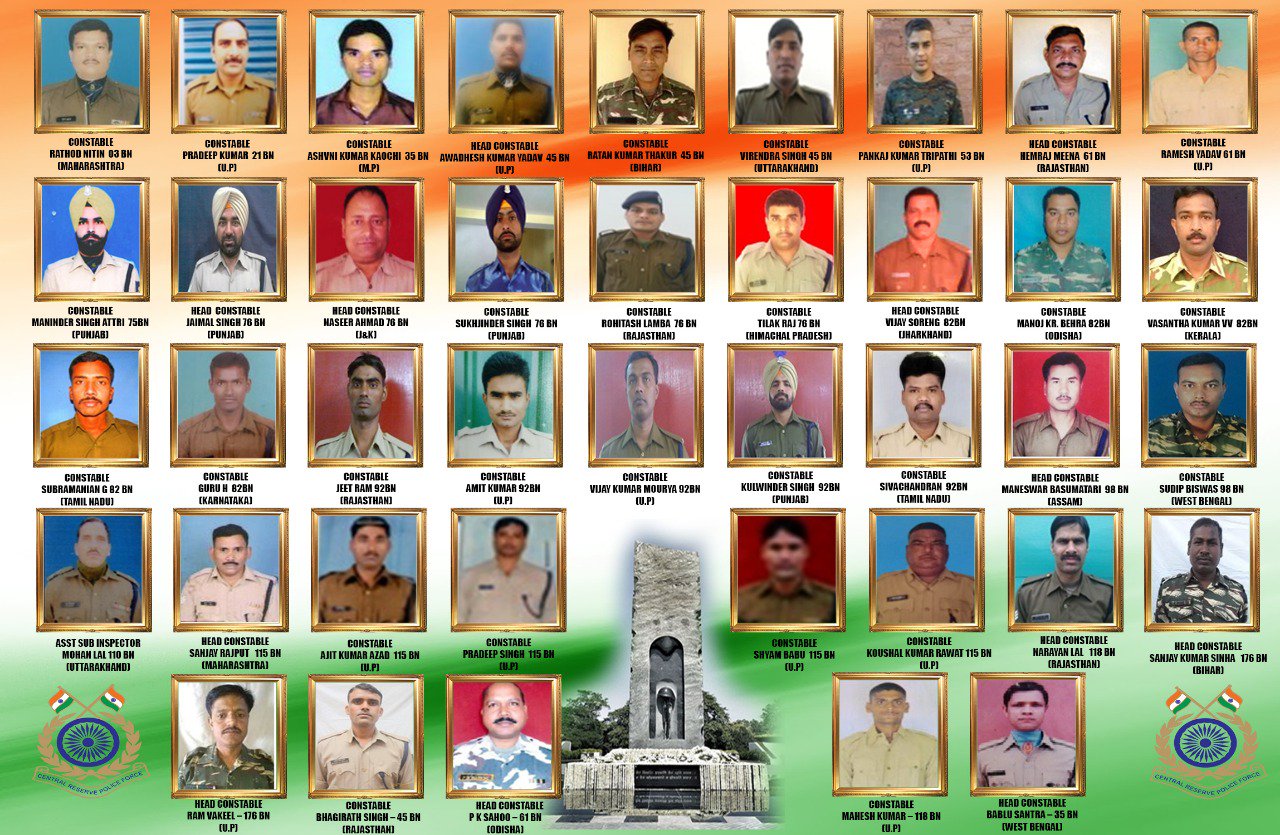 Here's a list of the martyrs, the brave soldiers we lost.
1. Ct/GD Rathod Nitin Shivaji
2. Ct/GD Bhagirathi Singh
3. Ct/GD Virendra Singh
4. HC/RO Awadhesh Kumar Yadav
5. Ct/GD Ratan Kumar Thakur
6. Ct/Dvr Pankaj Kumar Tripathi
7. Ct/GD Jeet Ram
8. Ct/Wm Amit Kumar
9. Ct/Bug Vijay Kr Maurya
10. Ct/Gd Kulwinder Singh
11. HC/GD Maneswar Basumatari
12. ASI/GD Mohal Lal
13. HC/GD Naseer Ahmad
14. HC/DVR Jaimal Singh
15. Ct/GD Sukhjinder Singh
16. Ct/Bug Tilak Raj
17. Ct/GD Rohitash Lamba
18. HC/GD Vijay Soreng
19. Ct/GD Vasantha Kumar V.V.
20. Ct/GD Subramian G.
21. Ct/GD Manoj Kr Behra
22. HC/Crypto Narayan Lal Gurjar
23. Ct/GD Mahesh Kumar
24. Ct/GD Pradeep Kumar
25. HC/GD Hemraj Meena
26. HC/GD P K Sahoo
27. Ct/GD Ramesh Yadav
28. HC/GD Sanjay Rajput
29. Ct/Cook Koushal Kumar Rawat
30. Ct/GD Pradeep Singh
31. Ct/GD Guru H
32. HC/GD Sanjay Kumar Sinha
33. HC/GD Ram Vakeel
34. Ct/GD Shyam Babu
35. Ct/GD Ajit Kumar Azad
36. Ct/WC Maninder Singh Attri
37. HC/GD Bablu Santra
38. Ct/GD Ashvni Kumar Kaochi
For the Indian citizens who want to come forward to help. The Government of India has created National Defense Fund through which you can help the security forces.
To let you know, the Government of India has set up National Defense Fund to take up the responsibility of voluntary donation and use it for the purpose of promoting national defense efforts. This fund is used for armed forces. The chairman of this committee is himself prime minister and the defense, finance and home minister are its members.
Donations can be done through, ndf.gov.in (link)
You can also contribute individually to martyred Jawaans' families via this link bharatkeveer.gov.in (link)
Those who want to honour and contribute financially to the families of our Bravehearts who sacrificed their lives in the line of duty in Pulwama terror attack can make a contribution directly to individual braveheart's account at https://t.co/st8aDjbO42 pic.twitter.com/ALJQ4iiCWT

— 🇮🇳CRPF🇮🇳 (@crpfindia) February 16, 2019
It was my privilege & honour to visit the HQ CRPF southern sector & offer tributes to #PulwamaMartyrs 🙏

As a token of my respect, in my personal capacity handed over cheque of ₹25 lakhs & also ₹25 lakhs from few friends who volunteeredhttps://t.co/s2Feq9W3C2 pic.twitter.com/JkppT2jJfe

— KTR (@KTRTRS) February 17, 2019
The father of the martyr wore a military camoflauge/fatigue in his memory. Martyr @crpfindia jawan Sivachandran wanted his son get into the IPS. So in his recent visit home gave the little boy a "police uniform." Also with me Hon Min @NNatarajanoffl #PulwamaMartyrs @AnantkumarH pic.twitter.com/bUbBiG9FEs

— Nirmala Sitharaman (@nsitharaman) February 16, 2019
Some glimpses from India Gate and Rajpath (15/February/2019) #PulwamaTerrorAttack #PulwamaMartyrs pic.twitter.com/9C5sjHVGlL

— Anurag Sharma (@AnuragToi) February 16, 2019
Meanwhile, the attack video which went viral on social media actually posted on a facebook page known as Rajasthani Media, was confirmed as a fake one which actually belongs to Baghdad blast in 2007.